Okay, so here begins my record of musician blogs. If I find interesting tweets from anyone, I'll post them here, but usually it'll be just blogs. I'll include posts from
Takahashi Jr the bassist
,
Nozaki Masuke the drummer
, and
Nozaki Morio the bassist
. (
Satou-san the drummer
and
Konno-san the violinist
also have blogs, but they almost never update them.)
A lot of these posts are going to be completely off-topic from anything to do with Kajiura-sensei, since these musicians work on lots of other things. Also, I might have a hard time translating the posts sometimes, since I'm still learning Japanese. And I'll probably fall behind on updating a lot. So please be patient

I'm starting off with
Jr's latest blog entry, June 19.
昨夜は御来場の皆様、
ありがとうございました~!
思えば3ヶ月前の自粛にて
延期されてたカバーナイト
100日経ってしまいましたが、
みなさまと再会できたのは本当に嬉しい限りです。
昨夜は震災から丁度100日でした。
悲しい出来事から100日
でも
これからはもう涙は流してはいけないんだそうです。
せっかく灯った心の中のロウソクの火を消してしまうからだそうです。
何が起ころうが
前に進むしかないからね。
ポジティブで行こうじゃあ~りませんか!
次回のカバーナイトもよろしく!
まだ決まってないけどね。(笑)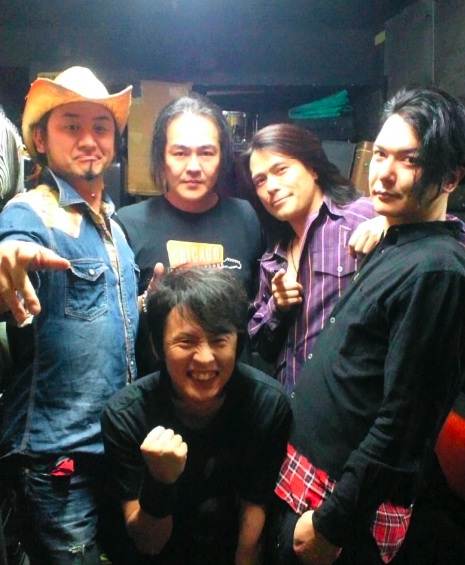 (I don't really know who anyone is, aside from Jr who's wearing the cowboy hat. I think the guy in the purple shirt is a keyboard player, but I'm not sure.)

Translation in progress...

All done!
Last night, everyone who attended, thank you very much!
If you think about it, it's a Cover Night that was postponed for three months out of self-control, so 100 days have passed, yet meeting everyone again was truly as wonderful as it could be.
Last night was exactly 100 days after the earthquake.
100 days after those sad events...
Well, after this, I mustn't shed tears. Despite the fact that it's extinguished the candle flame in my lit-up heart.
(I don't quite get this sentence.)
And I'm not becoming positive!
(I know that isn't right either.)
Please come to the next Cover Night!
But it still hasn't been decided. (laugh)
The Cover Night is an event at someplace called Kouenji Show Boat. Jr and his various bands perform there a lot. Sorry for a few strange points in the translation

(I really, really hope double-posting isn't frowned upon here...)