Koichi Korenaga
是永巧一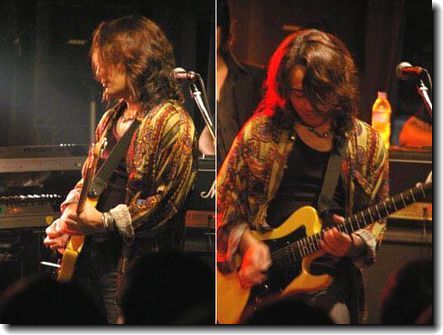 Born:
December 25, 1961
Composer:
Bubblegum Crisis Tokyo 2040, The Legend of Black Heaven, Love Hina, etc.
Arranger:
BGCT2040 songs, Aiko Nakano's "Rosa", FJ Keiko's "Synchronicity", etc.
Producer:
Unlimits, ONE OK ROCK, etc.
Guitarist:
FJ, FJ YUUKA, Saeko Chiba, See-Saw, Kalafina, Yuki Kajiura, etc.
Twitter:
KORE1225
Nickname:
Korechan (コレちゃん)
Biography:
...
He began his career in 1985 at age 24, becoming a part-time guitarist for the pop band Rebecca; although always credited as a "support musician", he played for them in recordings and concerts until their breakup six years later in 1991.
...
After Rebecca's breakup, he and other ex-Rebecca members Noriyuki Takahashi (bass) and Yutaka Odawara (drums) formed the group BABY'S BREATH together with singer/guitarist Manabu Miyahara and keyboardist Toshifumi Shibata. They released two albums in 1991, both of which included one song he composed. Although they have apparently not dissolved, they perform rarely due to the members' involvements in other projects.
...
In late 1993, he joined the backing band for pop/rock singer Takashi Utsunomiya. He was featured in three of Utsunomiya's music videos (Trouble in Heaven, Dance Dance Dance, and Innocent Blue), and performed in concerts and several TV lives, but left the band before Utsunomiya's next major concert in 1996.
...
In 1998, he wrote the soundtrack of the anime Bubblegum Crisis Tokyo 2040; in 1999, the soundtrack of the anime The Legend of Black Heaven; and in 2000, the soundtrack of the anime Love Hina. Working with fellow musician Ryo Sakai under the name '4Peace', he composed the soundtrack for the anime Maburaho in 2003. The soundtracks have normally received positive reviews: AnimeNewsNetwork.com reviews cited the "thumpin' soundtrack" as one of Bubblegum Crisis Tokyo 2040's pluses, calling it "the best thing about [the show]"; described the soundtrack of Love Hina as "cute and emotional" as well as "pleasant"; and called Maburaho's soundtrack "remarkable at times" (though also "synthesized light pop at its most mediocre").
...
At an unknown date, most likely sometime between 1999 and 2001, he joined the band JUNGAPOP, which had previously released two albums as a trio. It is currently a five-person unit, comprised of Korenaga, singer/guitarist Ippei Onoe, bassist Tomoharu "Jr" Takahashi (no relation to Rebecca's bassist), drummer Ryoji Sakaguchi, and keyboardist Hitoshi Minowa. As this unit, JUNGAPOP released a third album in 2003 and, according to Jr's official blog, the members are currently working on another.
...
In 2009, he and other ex-Rebecca musicians - Noriyuki Takahashi, Odawara, Obawo Nakajima (percussion), and Akio Dobashi (keyboard) - formed a group called FIVE JAM, which as its name implies is a casual unit. However, they have not performed together more than twice.
...
He began work as an arranger in the early 1990s; his earliest known arrangement work was for Ruriko Kuboh's single "Otoko". He has since arranged songs for various artists, including Savage Genius and Yuki Kajiura, as well as re-arranging several vocal insert songs for the Bubblegum Crisis Collector's File 1999 release. Also, he has arranged/co-arranged a total of 17 songs for the group ONE OK ROCK. As a producer, he has worked with ONE OK ROCK and Unlimits, producing the former's single "Re:make/No Scared" and seven songs from Unlimits' album "Tranquilizer".
...
Currently, he mainly performs in recordings and lives for Yuki Kajiura, but also participates in various live sessions around Tokyo and works for other artists.
----------------------------------------
I'm an endless fan of this guy, as I'm sure mostly everyone knows. In my opinion, there's no guitarist in Japan or the rest of the world who can measure up to him.
So basically, this thread is for the Korechan fandom - his performances, his singing, his tweets, his OSTs and arrangements. Anything
positive
related to Korechan goes here!
I'll be posting a short list of his best Youtube videos and such soon~